Operation Christmas Child - Samaritans Purse Shoe Box Appeal 2020
For many years St Ronan's Church has kindly donated many shoe boxes, filled with gifts for children. Many thanks to all who contributed to this appeal last year, in which gift boxes were sent to countries in and around the pacific region.
Samaritan's Purse has changed the lives of children through Operation Christmas Child since 1993. Every year, generous people across the world lovingly pack shoe boxes with gifts – simple yet powerful messages of God's unconditional love.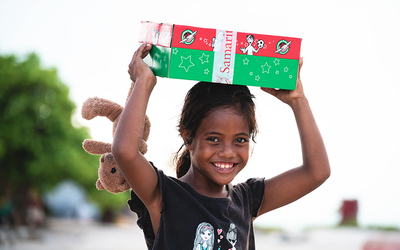 And when a child opens a shoe box, they're opening more than a present lovingly prepared just for them, they're opening up their community to a world of life-changing opportunities.
For more information go to Operation-Christmas-Child
PLEASE CONTACT Colin Dalziel on 562 7238 for information leaflets and shoe boxes. They will be available at church on Sundays from mid August. Suggestions for gifts to suit children of different ages are shown on the leaflet, such as: something to wear, to love, for school, to play with, personal hygiene, and something special. A donation of $10 is required in an envelope with each box to cover freight costs. Donations can also be made through the Operation Christmas Child website where you can follow your box and be advised where it has gone.
Filled boxes should be brought to St Ronan's Church on or before
Sunday 18th October 2020
After the morning Church Service where they will be blessed, they will delivered to the local collection point and continue their journey from there.
Many thanks,
Colin Dalziel 562 7238 Organiser