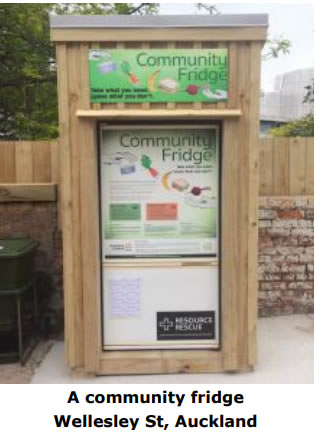 Let me introduce Finola Rance. Fiona lives and works in Eastbourne and recently proposed a 'community fridge' be hosted by St Ronan's. We have agreed to support Finola's initiative – Sandy Lang
Finola writes… 
The community fridge aims to reduce food waste within the Eastbourne and the wider Lower Hutt communities. The fridge will be used as a central drop-off point for over-flow produce from local gardens, as well as for nonperishable food products. It will be situated outdoors (in a shelter) just behind St Ronan's church. 5 Although Eastbourne is a high socio-economic area there are nevertheless a good number in the community who would benefit hugely every so often from a boost to their pantries. The fridge food would be accessible to all. As long as someone is using the excess, food waste is being reduced and peope are helped… 
The fridge will be monitored and cleaned by Finola and other volunteers. 
Once a week all leftover goods will be donated to the Lower Hutt FoodBank. 
It is hoped the fridge will be in place by late spring.
If you can help in any of the following ways, I would love to hear from you… 
Volunteers are need on a roster basis to help me check, clean and clear the fridge. 
Assistance is needed to design, source materials and construct a weather shelter for the fridge to sit in. If you have any expertise or building materials you could donate that would be much appreciated. 
If you have any artistic talent, help is also needed to design a logo for use on the fridge and promotional materials. 
The best contact would be by email finola.rance@gmail.com 
Finola Rance