October 31st 2017 - Celebrating 15 years
When ZAPPO came to visit…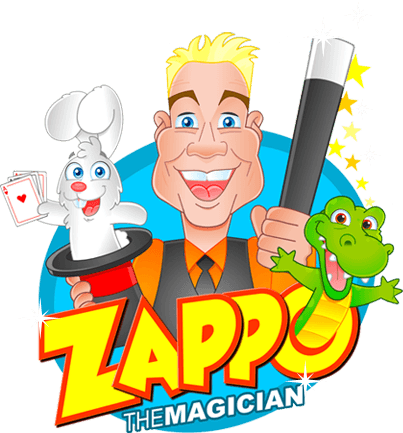 Children chortled, babies bounced, toddlers were tickled pink, mums watched with mirth and dads were delighted. Some big burly builder dads even giggled. Apparently I guffawed.
Zappo is an incredible magician and did several tricks which seemed impossible but I think his greatest talent is his ability to inspire laughter – and laugh we did!
He came to help our Eastbourne Mainly Music celebrate turning 15 years-old this October. We chose to celebrate on 31st October so we could offer an alternative activity for families and children who aren't comfortable with Halloween celebrations but who still wanted a fun family option on the night.
We were fortunate enough to have Muritai School hall as a venue and we opened the Zappo Show up to the community as an entry-by-koha/-donation event. Families came from as far as Fairfield to join in the fun. At one stage, 80 children/babies were counted.
The Mainly Music team received many messages of thanks for hosting the fun event – enough to inspire us to pencil in a booking for Zappo again next year.
Special thanks to Allison Molloy, Reg Weeks, Dreenagh and Kevin Heppleston for all their help on the night. Wasn't it a hoot?!
Cath Louden-Sim
---
On Thursday October 25 th 2014 we celebrated 10 years of making preschool music in Eastbourne. We had a wonderful morning of songs and thank you to all the people who have made this possible. We enjoyed the morning with all the morning tea helpers and people who have been involved in loving and supporting our children and mums.
Our fantastic community photographer – Uncle Phil – took a photo of us all and we had this enlarged and placed on a cake. He also gave each of the families a photo of the group to take home.
Special acknowledgement must go to Libby Bloomfield who brought the concept of Mainly Musicto our community of parents and children in Eastbourne.
We have a very special team of helpers and leaders committed to the families of Eastbourne and so this was an appropriate way to thank each one of you who do support us.


No matter how young or old you are, Mainly Music does play a special role each week in bringing joy and happiness to many people whether they be the helpers/leaders/parents or children. We are so aware of how wonderful a community we live in, when we can run this great programme and have the church hall overflowing each week with the many young families that live in Eastbourne. Thank you to the community of St Ronan's that make this possible.
If you are considering what you can do for the community please get involved with us. For 2 hours a term you get to be with some wonderful young families and enjoy some special community and family time with us.