Wellington region is under the COVID level orange and all our facilities are running.  Please don't visit if you're unwell, wear a face mask and respect personal distance. We require a vaccine pass to visit.
St Ronan's buildings are used during the week as a centre for many activities run by different community groups.
The St Ronan's buildings may be booked by emailing the church office on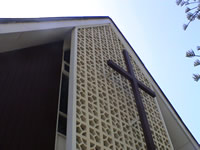 office@stronans.org.nz.
Groups that use St Ronan's include:
Eastbourne Embroidery Group
A congenial and helpful setting in which to enjoy embroidery. Tuesday 10-12noon
Contact Helen Boswell ph 562 8370.
Feldenkrais Group
A class to ease your body into flexibility, increase your range of movement, and improve health. Wednesday 7:30-8:30 pm
Contact Beverley Barclay ph 562 0965.
Retired Persons Association
3rd Monday 10-11am, 4th Monday 10-12noon .
Pilates
Wednesday 7-8pm
Contact Juliet Shelley on 569 1664
Sing-a-Long
Community singing for the elderly with home made afternoon tea. 2-3pm, dates to be advised.
Contact Betty Mortimer ph 566 4410.
Mainly Music



A relaxed and fun session of movement and music for pre-schoolers and their caregivers. Followed by a morning tea of fresh home baking and coffee. Thursday 9:30-11am - Wendy Manson 562 8287.
Pump Dance
Wednesday 3:30-7:30pm
Contact Libby Calder on 385 7867 Email: info@pumpdance.com Website: www.pumpdance.com
Toy Library
A vast collection of fantastic toys that are available for hire for a small cost. Monday 8-9pm and Tuesday 9:30-10:30am
Contact Susan Robertson on 586 0303