May 2023
| | | |
| --- | --- | --- |
| 7 May | Shared service with St Albans at St Ronan's | 9:30am |
| 14 May | Communion service with Reg Weeks | 9:30am |
| 21 May | Informal worship service | 9:30am |
| 28 May | Worship with John Howell | 9:30am |
| 4 June | Informal worship service | 9:30am |
Services will continue to be available via email (contact slang@xtra.co.nz) and a new facebook page (contact reg@centralconsulting.co.nz).
---
Power Hour - Sundays 9:30 am term time
Breakfast Prayer - Tuesdays 7.45 am
Mainly Music – Thursdays 9.15am term time
For pastoral care needs, please contact our Pastoral Care Co-ordinator
Colin Dalziel on 562 7238 who will endeavour to co-ordinate help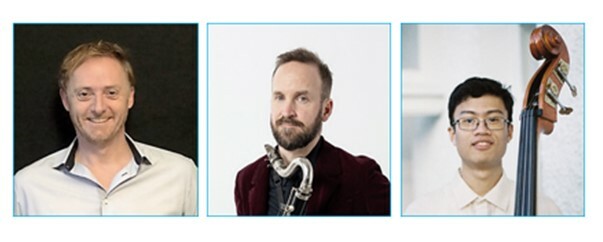 Duncan Haynes Trio
On Sunday 14 May at 4pm at St Ronan's Church, 234 Muritai Road, Eastbourne, Duncan Haynes (piano), Blair Latham (saxophone) and Seth Boy (double bass) will present Directions in Jazz - The Music of Herbie Hancock and Wayne Shorter.
The trio aims to broaden your horizons by sharing their passion for creating genuine musical moments. Their programme has been chosen to represent the most significant aspects of these two master composers and to communicate the joy of improvisation. They want you to be fully involved in the energy, drama and humour of their play - to feel almost part of the trio!

Email your ticket requirements to Sandy Lang and you will receive the detailed programme and payment instructions. No door sales. Tickets are limited to 100 to ensure safe spacing.
Monday
Every week Term time
Toy Library
1:30 - 2:30 pm and
7:30 - 9:15 pm
Hall
1st of month
Community Singalong
2:30 - 3:30 pm
Fellowship Room
4th of month
Retired Persons Meeting
9:30 - 11:00 am
Felllowship Room
Tuesday
Every week
Prayer meeting
8:00 - 9:45 am
Fellowship Room
Every week
St Albans meeting
3:00 - 4:30 pm
Fellowship room
Every week
St Albans Fellowship/reflection
7:00 - 9:00 m
Fellowship room
Every week Term time
Pump dance
4:00 - 6:30 pm
Hall
Wednesday
Thursday
Every week Term time
Mainly Music
8:30 - 11:30 am
Hall/Blue room/
Fellowship room
2nd of month
St Albans Eucharist
10:00 - 11:30 am
Church
2nd of month
St Albans Seniors
11:30am - 2:30pm
Fellowship room
Every week Term time
Pump dance
5:15 - 7:15 pm
Hall
Friday
Every week Term time
St Albans Pop in and Play
8:00am - 12:30pm
Hall/Blue room
Saturday
Fortnightly Term time
Messy Minis
3-4 pm
Hall
Sunday
Every week
Service and Power Hour
9:30 - 10:30 am
Church/
Sunday School room
Every week
Morning tea
10:30 - 11:00 am
Fellowship room