Under the current COVID Level 1 all our services are running. Please sanitise/handwash as you arrive and don't come if you are unwell. Use the QR code inside the church and the education block to record attendance.
December 2020
6 Dec
Worship with Jenny Dawson (CWS)
9:30am
13 Dec
Holy Communion with Reg Weeks
Special Christmas morning tea - our congregation Christmas cake and biscuits with our Power Hour children
9:30am
10:30am
20 Dec

Worship with Diane Gilliam-Weeks

9:30am
25 Dec
Family friendly Christmas service with Reg Weeks
9:30am
27 Dec

Worship with Gill Burke

9:30am
January 2021
| | | |
| --- | --- | --- |
| 3 Jan | Worship with Anne Manchester | 9:30am |
| 10 Jan | Holy Communion with Reg Weeks | 9:30am |
| 17 Jan | Worship with Diane Gilliam-Weeks | 9:30am |
| 24 Jan | Worship with Lionel Nunns | 9:30am |
| 31 Jan | Worship with Doug Rogers | 9:30am |
Services will continue to be available via email (contact slang@xtra.co.nz) and a new facebook page (contact reg@centralconsulting.co.nz).
---
Power Hour - Sundays 9:30am term time
Breakfast Prayer - Tuesdays 7.30am
Mainly Music – Thursdays 9.15am term time
For pastoral care needs, please contact our Pastoral Care Co-ordinator
Colin Dalziel on 562 7238 who will endeavour to co-ordinate help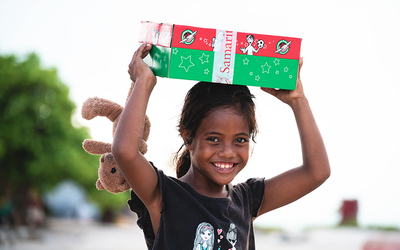 Operation Christmas Child - Samaritans Purse Shoe Box Appeal 2020
For many years St Ronan's Church has kindly donated many shoe boxes, filled with gifts for children. Samaritan's Purse has changed the lives of children through Operation Christmas Child since 1993. Every year, generous people across the world lovingly pack shoe boxes with gifts – simple yet powerful messages of God's unconditional love.
Carol Singing
Wellington Regional Hospital
You are invited to join us Carol Singing around the Wards on Christmas Eve 24th December at 7.00 pm
Please gather in the Atrium at 6.45 pm. We will divide into two groups. Spend about an hour singing in the various wards concluding with a light supper.
Wellington Regional Hospital Chaplains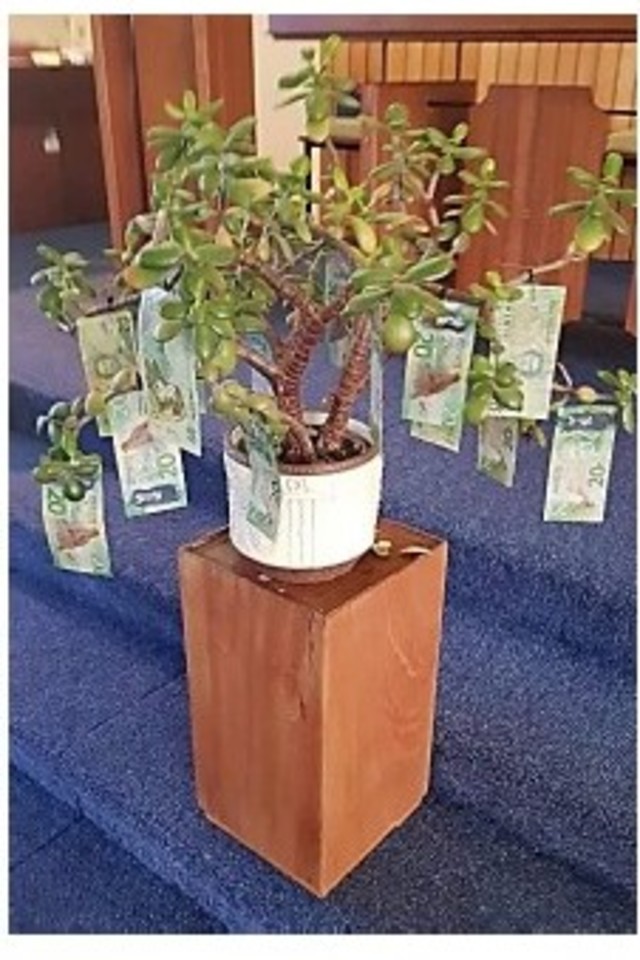 Talents Scheme
The 'Talents Scheme' has been operating since the 'money tree' appeared at St Ronan's. For us it will be our God-given talents, not Hebrew gold, we are invited to put to use in this give-a-little challenge. And the $20 bill was the seed money to get a start. The scheme will now run through 2020. Now about the money... If it's cash then pop it in an envelope labelled 'Talent Scheme', also include your name and email address, if you would like a tax receipt. Or you may prefer to transfer it electronically to St Ronan's bank account 02 0544 0142859 00. You can also use this account for casual donations. Again, please provide your name if you want a tax receipt.
Reg Weeks
Regular events
| | | | | |
| --- | --- | --- | --- | --- |
| Monday | Every week | Toy Library | 7:30pm - 9:15pm | Hall |
| | 1st of month | Community Singalong | 2:30pm - 3:30pm | Fellowship Room |
| | 4th of month | Retired Persons Meeting | 9:30am - 11:00am | Felllowship Room |
| Tuesday | Every week | Prayer meeting | 8:00am - 9:45am | Fellowship Room |
| | Every week | Embroidery group | 10:00am - midday | Fellowship Room |
| | Every week | Toy Library | 9:30am - 11:15am | Hall |
| | Every week | St Albans meeting | 3:00pm - 4:30pm | Fellowship room |
| | Every week | St Albans Fellowship/reflection | 7:00pm - 9:00pm | Fellowship room |
| | Every week | Pump dance | 4:00pm - 6:30pm | Hall |
| Wednesday | | | | |
| Thursday | Every week | Mainly Music | 8:30am - 11:30am | Hall/Blue room/ Fellowship room |
| | 2nd of month | St Albans Eucharist | 10:00am - 11:30am | Church |
| | 2nd of month | St Albans Seniors | 11:30am - 2:30pm | Fellowship room |
| | Every week | Pump dance | 5:15pm - 7:15pm | Hall |
| Friday | Every week | St Albans Pop in and Play | 8:00am - 12:30pm | Hall/Blue room |
| Saturday | | | | |
| Sunday | Every week | Service and Power Hour | 9:30am - 10:30am | Church/ Sunday School room |
| | Every week | Morning tea | 10:3am - 11:00am | Fellowship room |