September 2019
1 Sept
Worship with 

Doug Rogers (Father's Day)


Taizé 

9.30am
6.30pm
8 Sept
Holy Communion with Reg Weeks
9.30am
15 Sept
Worship with 

Norman Wilkins

9.30am
22 Sept
Worship with 

Ross Scott 

9.30am
29 Sept
Worship with 

Doug Rogers

9.30am
Power Hour and Wiggly Church - Sundays 9:30am in Term time
Breakfast Prayer - Tuesdays 7.30am 
Mainly Music – Thursdays 9.15am term time
For pastoral care needs, please contact our Pastoral Care Co-ordinators,
Colin Dalziel 562 7238 and Mary Williams 568 3216 who will endeavour to co-ordinate help
---
Special Events: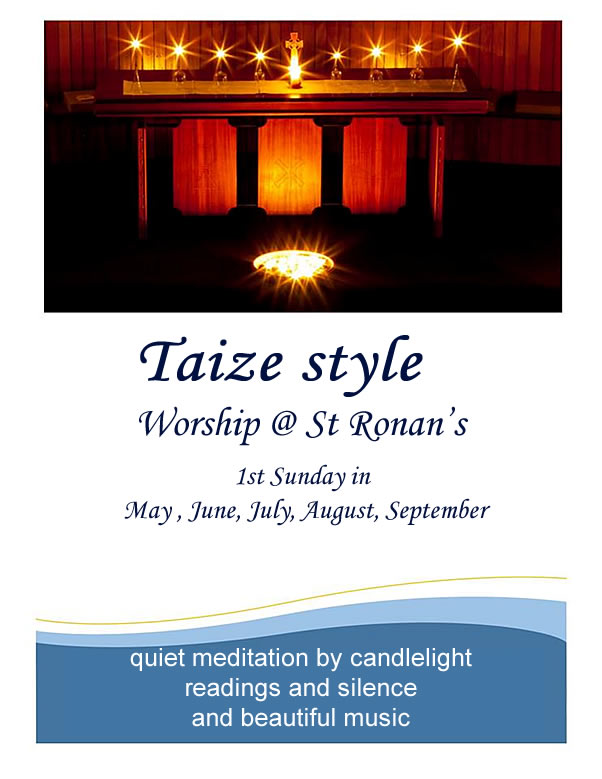 Alpha course
St Ronan's will be hosting the new Alpha programme from Thursday 1 August at 12.15pm.
The format each week consists of eating together, a video presentation and then open discussion, where people have an unrestricted opportunity to explore the topic, share their thoughts and their questions in a safe, unpressured environment.
So whether the faith is a whole new world to you, or one in which you have lived and laboured long, here is an opportunity for a fresh perspective and new insights.
Contact Reg Weeks or Sandy Lang for details
Toolbox Parenting Courses
The first Toolbox Parenting Course for 2019 was in Term 2 for parents of teenage children. This 'teens' course was a resounding success, the nine participants are now much wiser. 
We will re-run the courses for parents of Pre-school children in Term 3 and that for parents of Primary school children in Term 4. The course for parents of Intermediate school children is being re-written, so is unavailable in 2019. We hope to run this course in Term 1 of 2020.
St Ronan's Toolbox parenting courses are supported by The Eastbourne Lions and The Wellington Trust – their support (about $400 per course) reduces course fees to a level that will exclude nobody. 
Regular Monthly Events
Event colours: Blue room | Fellowship room | Hall | Church