With the Wellington region currently at COVID Level 2 our facilites are running.  Remember - 
Don't come if you're not well. Do wash your hands often, and sanitise on arrival, scan our QR code, wear a face mask, maintain 2 m spacing. Check with your programme provider if you have questions.
November 2021
| | | |
| --- | --- | --- |
| 7 Nov | Service with Graeme Munro | 9:30am |
| 14 Nov | Communion service with Diane Gillian-Weeks | 9:30am |
| 21 Nov | Service with Ross Scott | 9:30am |
| 28 Nov | Service with Jenny Dawson from Christian World Service | 9:30am |
| 5 Dec | Service with Graeme Munro | 9:30am |
Services will continue to be available via email (contact slang@xtra.co.nz) and a new facebook page (contact reg@centralconsulting.co.nz). 
---
Power Hour  -  Sundays 9:30 am term time
Breakfast Prayer - Tuesdays 7.45 am
Mainly Music – Thursdays 9.15am term time
For pastoral care needs, please contact our Pastoral Care Co-ordinator 
Colin Dalziel on 562 7238  who will endeavour to co-ordinate help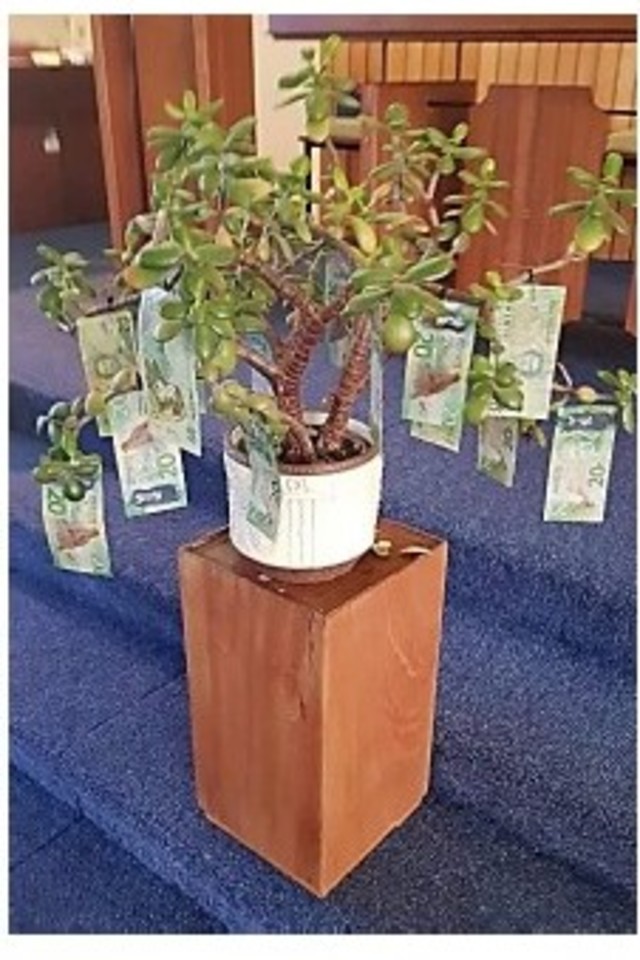 Talents Scheme
 The 'Talents Scheme' has been operating since the 'money tree' appeared at St Ronan's. For us it will be our God-given talents, not Hebrew gold, we are invited to put to use in this give-a-little challenge. And the $20 bill was the seed money to get a start. The scheme  will now run through 2021. Now about the money... If it's cash then pop it in an envelope labelled 'Talent Scheme', also include your name and email address, if you would like a tax receipt. Or you may prefer to transfer it electronically to St Ronan's bank account 02 0544 0142859 00. You can also use this account for casual donations. Again, please provide your name if you want a tax receipt.
Reg Weeks
Regular events
| | | | | |
| --- | --- | --- | --- | --- |
| Monday | Every week | Toy Library | 7:30pm - 9:15pm | Hall |
|   | 1st of month | Community Singalong | 2:30pm - 3:30pm | Fellowship Room |
|   | 4th of month | Retired Persons Meeting | 9:30am - 11:00am | Felllowship Room |
| Tuesday | Every week | Prayer meeting | 8:00am - 9:45am | Fellowship Room |
|   | Every week | Toy Library | 9:30am - 11:15am | Hall |
|   | Every week | St Albans meeting | 3:00pm - 4:30pm | Fellowship room |
|   | Every week | St Albans Fellowship/reflection | 7:00pm - 9:00pm | Fellowship room |
|   | Every week | Pump dance | 4:00pm - 6:30pm | Hall |
| Wednesday |   |   |   |   |
| Thursday | Every week | Mainly Music | 8:30am - 11:30am | Hall/Blue room/ Fellowship room |
| | 2nd of month | St Albans Eucharist | 10:00am - 11:30am | Church |
|   | 2nd of month | St Albans Seniors | 11:30am - 2:30pm | Fellowship room |
|   | Every week | Pump dance | 5:15pm - 7:15pm | Hall |
| Friday | Every week | St Albans Pop in and Play | 8:00am - 12:30pm | Hall/Blue room |
| Saturday | | | | |
| Sunday | Every week | Service and Power Hour | 9:30am - 10:30am | Church/ Sunday School room |
| | Every week | Morning tea | 10:3am - 11:00am | Fellowship room |