December 2019
| | | |
| --- | --- | --- |
| 1 Dec | Worship with Jenny Rogers (CWS) | 9.30am |
| 8 Dec | Holy communion with Ray Coats | 9.30am |
| 15 Dec | Christmas Pageant | 9:30am |
| 22 Dec | Worship with Anne Manchester | 9.30am |
| 25 Dec | Christmas celebration with Sandy Lang | 9.30am |
| 29 Dec | Worship with Doug Rogers | 9.30am |
January 2020
| | | |
| --- | --- | --- |
| 5 Jan | Worship with Gill Burke  | 9.30am |
| 12 Jan | Holy communion with Reg Weeks | 9:30am |
| 19 Jan | Worship with John Howell  | 9.30am |
| 26 Jan | Worship with  Ray Coats | 9.30am |
Power Hour and Wiggly Church - Sundays 9:30am in Term time
Breakfast Prayer - Tuesdays 7.30am 
Mainly Music – Thursdays 9.15am term time
For pastoral care needs, please contact our Pastoral Care Co-ordinators,
Colin Dalziel 562 7238 and Mary Williams 568 3216 who will endeavour to co-ordinate help
---
Special Events: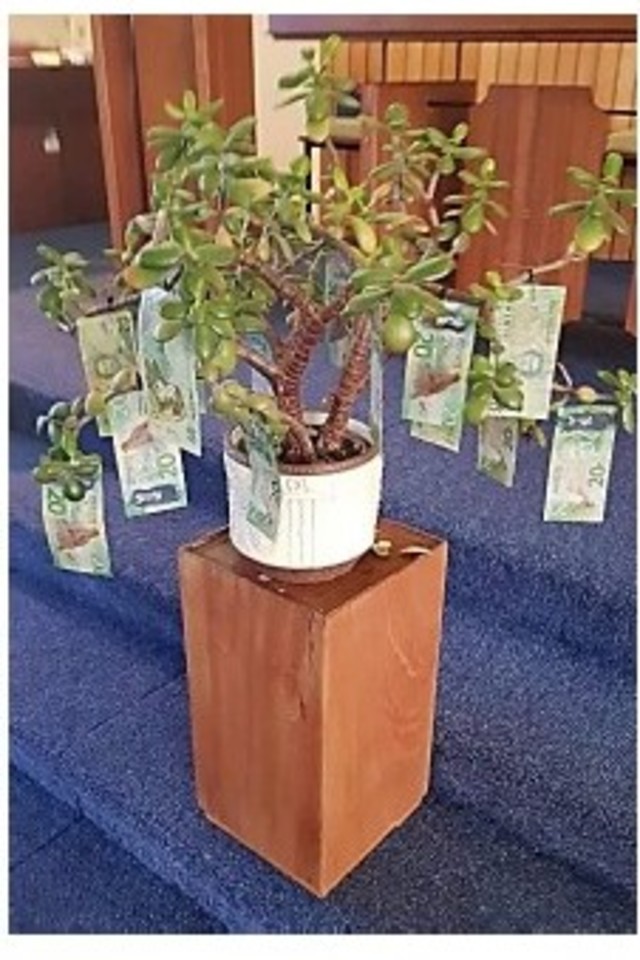 Talents Scheme
 Dear Friend of St Ronan's,
The 'Talents Scheme' has been operating since the 'money tree' appeared at St Ronan's. Something's going on…! I said then, that for us it will be our God-given talents, not Hebrew gold, we are invited to put to use in this give-a-little challenge. And the $20 bill was the seed money to get a start.I also said full details would be on St Ronan's website, but they weren't. For that I apologise - our wonderful website expert, Michelle, was overseas! Be that as it may, all but one of the 15 'blossoms' have now been taken, and I'm aware of several initiatives well under way. In fact, one is already completed. However, some have had to change their first intention and start again, so we decided that although it was initially scheduled to end after four weeks (on 10 November) it will now run through to the end of January. This should give ample time for folk to fit their projects into this busy time of the year, and the preparations for Christmas. Now about the money. If it's cash then pop it in an envelope labelled 'Talent Scheme', also include your name and email address, if you would like a tax receipt. Or you may prefer to transfer it electronically to St Ronan's bank account 02 0544 0142859 00. You can also use this account for casual donations. Again, please provide your name if you want a tax receipt.
Reg Weeks
Regular Monthly Events
Event colours: Blue room | Fellowship room | Hall | Church