September 2023
Services will continue to be available via email (contact slang@xtra.co.nz) and on our facebook page (contact reg@centralconsulting.co.nz). 

Power Hour  -
  Sundays 9:30 am
 term time
Breakfast Prayer
 - Tuesdays 7.45 am

Mainly Music
 – Thursdays 9.15am
term time
3 Sept

Informal worship service

9:30am

10 Sept
Communion service with Reg Weeks


Annual General Meeting



9:30am
10:45am
17 Sept

Informal worship service

9:30am

24 Sept
Service with Lionel Nunns
Annual General Meeting
9:30am
10:45am
1 Oct

Informal worship service

9:30am
For pastoral care needs, please contact our Pastoral Care Co-ordinator 
Colin Dalziel on 562 7238  who will endeavour to co-ordinate help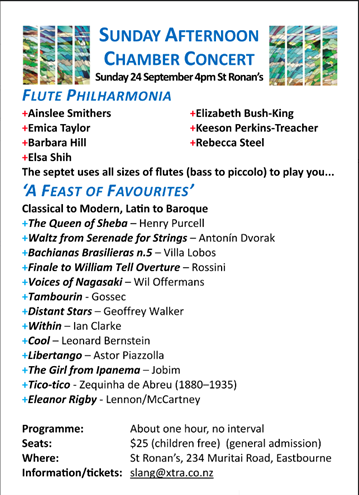 Information/tickets: slang@xtra.co.nz
St John Workshop
Sandy has organised St John's 'Workshops' at St Ronan's in July and August. These don't give you a certificate but do instruct. You can register your interest in a September workshop by emailing Sandy.
More information from the earlier workshops is in this flyer - please feel free to share with your friends - St Ronan's is keen to run as many workshops as needed. 
Monday
Every week Term time
Toy Library
1:30 - 2:30 pm and
7:30 - 9:15 pm
Hall
 
1st of month
Community Singalong
2:30 - 3:30 pm
Fellowship Room
 
4th of month
Retired Persons Meeting
9:30 - 11:00 am
Felllowship Room
Tuesday
Every week
Prayer meeting
8:00 - 9:45 am
Fellowship Room
 
Every week Term time
Pump dance
4:00 - 6:30 pm
Hall
Wednesday
 
 
 
 
Thursday
Every week Term time
Mainly Music
8:30 - 11:30 am
Hall/Blue room/
Fellowship room
1st of month
St Albans Eucharist
10:30 - 11:30 am
Church
 
1st of month
St Albans 

Take A Break community lunch for seniors

11:30am - 2:00pm
Fellowship room
 
Every week Term time
Pump dance
5:15 - 7:15 pm
Hall
Friday
Every week Term time
St Albans Pop in and Play
8:00am - 12:30pm
Hall/Blue room
Saturday
Fortnightly Term time
Messy Minis
3-4 pm
Hall
Sunday
Every week
Service and Power Hour
9:30 - 10:30 am
Church/
Sunday School room
Every week
Morning tea
10:30 - 11:00 am
Fellowship room