November 2019
3 Nov
Worship with Ross Scott

9.30am
10 Nov


Holy communion with Reg Weeks
Church Chat
9:30am
10:30am
17 Nov
Worship with Norman Wilkins
9.30am
24 Nov
Worship with John Harris
9.30am
1 Dec
Worship with Jenny Dawson (CWS)
9.30am
Power Hour and Wiggly Church - Sundays 9:30am in Term time
Breakfast Prayer - Tuesdays 7.30am
Mainly Music – Thursdays 9.15am term time
For pastoral care needs, please contact our Pastoral Care Co-ordinators,
Colin Dalziel 562 7238 and Mary Williams 568 3216 who will endeavour to co-ordinate help
---
Special Events:
Advent and Springtime Bake Stall
St Ronan's and East Harbour Red Cross

Saturday 30 November, 9-12 noon, Rimu St, Eastbourne - Rain or Shine…!
Whatever the weather, we always have lots of happy customers and a sellout for our combined bake stall. And, hopefully, a handsome raising of funds for our two projects:

(1) Randwick School's new sensory area and junior playground and

(2) Lower Hutt refugees.

We've already had questions asked about where is the best place to leave baking by persons who will be away on the day. How great is that…?As in the past, we would be thrilled and thankful to receive your contributions. Here's a helpful idea. Just double the recipe so you can get 2-4 packages from the bake. Christmas or Spring themes are good.Favourite examples are: shortbreads, cakes, muffins, preserves, slices, lemon curd, jam, gluten-free baking. All need to be fully wrapped in clear plastic.

Closer to the date, at Sunday morning tea, we shall circulate a name sheet asking for a possible hour to help 'wo+man' the stall. It's a good time and we look forward to making a difference to others, all thanks to our joint efforts.I'm happy to help with any questions or assistance

Susan Connell (568 5747)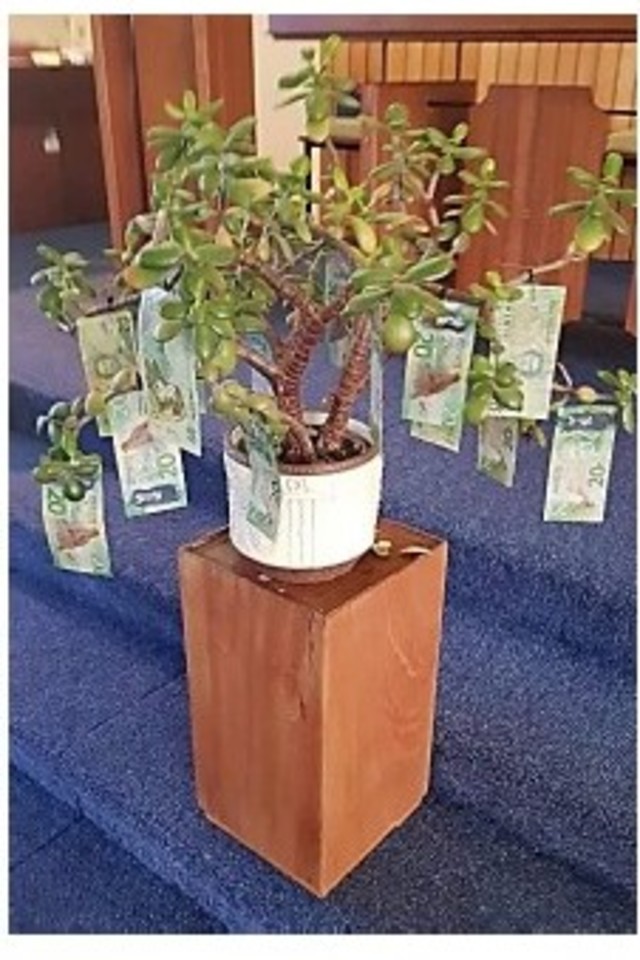 Talents Scheme
Dear Friend of St Ronan's,

The 'Talents Scheme' has been operating since the 'money tree' appeared at St Ronan's. Something's going on…! I said then, that for us it will be our God-given talents, not Hebrew gold, we are invited to put to use in this give-a-little challenge. And the $20 bill was the seed money to get a start.I also said full details would be on St Ronan's website, but they weren't. For that I apologise - our wonderful website expert, Michelle, was overseas! Be that as it may, all but one of the 15 'blossoms' have now been taken, and I'm aware of several initiatives well under way. In fact, one is already completed. However, some have had to change their first intention and start again, so we decided that although it was initially scheduled to end after four weeks (on 10 November) it will now run through to the end of January. This should give ample time for folk to fit their projects into this busy time of the year, and the preparations for Christmas. Now about the money. If it's cash then pop it in an envelope labelled 'Talent Scheme', also include your name and email address, if you would like a tax receipt. Or you may prefer to transfer it electronically to St Ronan's bank account 02 0544 0142859 00. You can also use this account for casual donations. Again, please provide your name if you want a tax receipt.
Reg Weeks
Regular Monthly Events
Event colours: Blue room | Fellowship room | Hall | Church