NB: The Eastbourne Messy Church is suspended for the time being
.
---
---
Eastbourne's ecumenical Messy Church (MC) had its birth in 2014 at Vostro Gusto Café, at the monthly leaders' meeting of Eastbourne's three churches – San Antonio's, St Albans's and St Ronan's. Our first MC gathering was on 7 December 2014 at San Antonio's. Since then, we've met at St Alban's (early this year), then at St Ronan's and, most recently, back at San Antonio's on 21 June 2015. 
Numbers: We've usually had about 15 to 20 people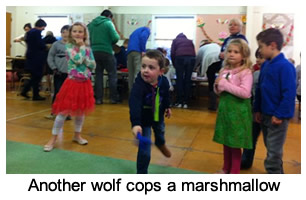 (adults + primary-aged children) but numbers have been growing, indicating an encouraging level of interest from the community. Most recently we had 34 people - 18 children (age ~1 to 15) and 16 adults (age ~30ish to 70ish). 
We fired marshmallows at a wolf, while learning about David's hillside experiences as a shepherd boy. These prepared him for his famous encounter with Goliath.


Formulae: We meet on the 3rd Sunday each month (but not school holidays) so we'll miss July and re-convene on August 16. We rotate between the three Churches, so next MC will be at St Alban's. This pattern means about eight or nine MC gatherings per year – not too draining for the organisers, not so infrequent there's no continuity.
We gather at 4.30pm and after a few informal minutes we engage in some themed, all-age, activity. Then maybe about 5.15pm the leader ties this up with a few words of 'application', before we eat a pot-luck meal together followed by tea/coffee. We end about 6pm.

Leadership: Helping us to get started is an old friend of mine from my Palmerton North days, Neville Gardner (now living in Tawa). Neville is something if an MC expert and does an impressive job – we are going to have to learn to do this for ourselves at some stage…! 
We would love to see you at MC one Sunday. Keep an eye on the Record and/or the Eastbourne Herald for dates and places and bring yourself, a plate to share, and we guarantee you a happy time…
Check the new website for dates and more detail - Eastbourne Messy Church
Sandy Lang
---
AUGUST 2016:
salms of old were written on parchment, by hand, with a quill pen, with the leading letter often beautifully illuminated. At August's Messy Church, a small number of us met at St Ronan's where we wrote with turkey feathers, ends carefully carved with a penknife to create a nib suitable for calligraphy (on paper). After a bit of this, we turned our attention to colouring in – this was my grand effort. The theme, inspired by the recent Olympics, was to do our best. If you've ever read my handwriting you'd understand I needed that encouragement. 

We had trouble tearing the kids away from their work for long enough to eat their chippies and sausage rolls.
Next Messy Church will be at San Antonio on 18 September, 4.30-6pm, bring a plate to share.