Let's make Eastbourne plastic-bag free!
Update for February 2018
We are currently at 300 'boomerang bags' with at least another 50 on the go. Weekly sewing bees on Wednesday nights 7-9pm – all welcome. BYO machine if you're a sewer or just come along for non-sewing tasks. Heaps of ironing, pinning, cutting and more ironing. This is for anyone – old or young, lads or lassies.
We're aiming for a launch sometime late February / early March – when we've hit 500 bags.
Once out there, bag numbers will have to be maintained, repairs made etc, so our Wednesday-night sessions will be ongoing for the foreseeable future.
November 2017
Let's make Eastbourne plastic-bag free!

How:
Boomerang Bags are a sustainable alternative to plastic bags. Retailers will hold a supply of free Boomerang Bags. If you forget to bring your own reusable bag, just grab a Boomerang Bag and return it next time. Easy and plastic-free!
Wanted: Fabric and thread donations. Please drop these off at the library or at St Ronan's (box in the hall).
Working bees at St Ronan's:
Come along and meet your community, have a laugh and contribute to an awesome cause. We hope you enjoy seeing your fabric turned into bags - there are some beauties! Come with a sewing machine if you can. There are also plenty of non-sewing jobs (ironing, pinning, cutting and more ironing). And we welcome any refreshment contributions - baking, sweet/savoury treats, wine etc…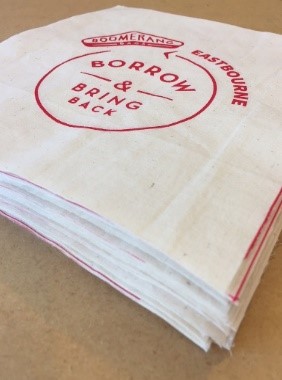 Wed 22 November 7-9pm Sun 26 November 2-4pm
Sun 3 December 2-4pm Wed 6 December 7-9pm Wed 20 December 7-9pm
Sun 14 January 2-4pm Wed 17 January 7-9pm Sun 21 January 2-4pm Wed 31 January 7-9pm
Wed 7 February 7-9pm
Can't make it to a bee? We have take-home bag kits available for collection (cut bags, straps, printed pockets and instructions). We aim to launch in Feb/March with 500 bags. We already have several hundred on the go, so we'll make this target OK.
More information: www.facebook.com/BoomerangBagsEastbourneNZ
Genevieve gen@genevievepacker.com
Mary 027 664 7661; 562 7554
Genevieve Packer & Mary Ryan