August 2015 - Hutt Valley, Vietnam and Peru
Five parcels of knitting have been sent out over the past six weeks. Two parcels of baby beanies and tops have gone to Hutt Plunket, for distribution to new-borns, born in the Hutt Valley to needy families. I have received very positive feedback on these parcels, from my contact here in Eastbourne. It is nice to be able to help close to home, as well as continue the overseas parcels with Global Volunteer Network. Three parcels have gone with GVN volunteers, two to Vietnam and the other to Peru.
A large amount of yarn, mostly acrylic, was dropped off at the church office. Amongst it were several unfinished crochet projects that I have passed on to Elizabeth at Waiwhetu Uniting Church who has crocheted many baby blankets for our outreach. It is all double knitting yarn, so if you need some, please let me know. Acrylic is really good for blankets and also to knit with wool for slippers. Tops for warmer places would also be an option. A thank you must go to the person who was kind enough to donate to us this large amount of yarn. We appreciate it.
It has been good weather for keeping warm and doing some knitting that will warm someone else somewhere. Thanks again and God bless you
June 2015 - Slippers to Randwick

Slippers have been delivered to Randwick School for the Junior Students, so there will be warm feet in the classrooms. We are also giving some extras to the school to have on hand for new students or for replacements as needed.
A large parcel of beanies, baby/toddler tops and baby blankets has been sent with a GVN volunteer to South Africa. She will be working with pre-school children.
Thanks again for all you efforts. God bless you Carol Pringle
May 2015 - Costa Rica
A parcel of beanies has been sent in April to Costa Rica, with a GVN volunteer.
We are again knitting slippers for children at Randwick School to wear in the classrooms over the winter months. They were very much appreciated last year. At present we have just over fifty pairs ready. More are still needed for every child to have a pair. Mary Williams is co-ordinating this project this year, and if you need a pattern or wool please contact Mary or Carol.
Thank you to all the knitters. The contributions from you all keep this outreach going, and it is so worthwhile.
Carol Pringle
April 2015 - Baby clothing for Plunket
Not a lot to report this month. No parcels have been sent overseas, but I have a request for one in May.
I am sorting a parcel of knitting for Plunket in the Hutt. They still need donations of baby clothing and baby blankets for needy families with newborns. They prefer wool items and are happy to receive beanies, vests, tops, bootees and baby blankets. Please let me know if your items are of wool as this helps me with the sorting of parcels.
The cooler months are coming, a good time to knit!!! Carol
March 2015 - South Africa
It has been a quiet month with just one parcel going to South Africa.
What a parcel contains varies a little depending on where it is going and what type of programme the volunteer is heading to. The parcels are usually between 2 to 4 kg in weight, depending on the amount of space in the volunteer's suitcase.
The parcel to South Africa contained the following:
50 beanies, baby and child sizes; 8 baby blankets; 15 baby/toddler tops.
We have some dedicated knitters and crocheters who keep this outreach supplied with garments and to you I say a big thank you. Without you all it just wouldn't happen. God bless you, Carol
February 2015 - Thanks from Uganda
After a very quiet year for parcel requests in 2014, there have already been four parcels sent since the December Record. Parcels have gone to Northern Thailand (2), Nepal and Ecuador. The latter is a new destination for our knitting. Another parcel is going to South Africa early in February.
All these parcels have been carried in by Global Volunteer Network volunteers. I received the following thank you in January from Christopher Kulabako.
"Dear friends in New Zealand, thank you so much for the beanie hats, bootees, tops and blankets you sent with love to our project, (St Isaacs), with Sopher and Nick. [I] am the director Chris Kulabako. Am very sorry for taking long with out communicating to you, I lost your email. But I got it last week.
May God bless you all! Hope to hear from you soon and looking to work with you please. Chris
After some research I found that the email was from Uganda, and the parcel was sent two years ago in January, 2013. How lovely to get a thank you after all this time.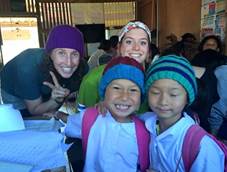 We have also had a thank you from the two volunteers who took parcels to Northern Thailand this January
"Hi there!
Hope everyone's had a great Christmas and new year. Thank you so much for all the beanies, the kids really loved hem and we loved seeing them wear them to school and seeing them all around the village.
Here are some photos of Mel and I with the kids at their local school. Hannah"


It is great to get feed back on the recipients of our beanies etc. Every item makes a difference to someone. Thanks to everyone who helps keep this outreach supplied with knitting to send.
God bless you,
Carol

---
---
---
Beanies 2014
September 2014 - Plunket contributions
There has been very little activity through Global Volunteer Network, but I know of two parcels going with their volunteers towards the end of the year.
On the local front, I have heard that Plunket was very pleased to receive the parcel of beanies, baby blankets, tops and bootees we contributed to be distributed to needy families in the Hutt Valley. Items for Plunket are still appreciated. They do prefer wool over acrylic. If you have items to give me and you know they are wool please label them as such. That would help me when sorting for a parcel.
Although the warmer weather is on the way, we can always be preparing for next winter here for Plunket. Parcels will continue to be sent overseas, but at the present time fewer volunteers are going.
Thank you for all your wonderful contributions. God Bless You. Carol Pringle
July 2014 - Knitting (aka Beanies) outreach
July has been a very quiet month for knitting distribution. No parcels have been sent overseas, but GVN tell me they have volunteers going later in the year.
We do have another local outlet for knitting, through Eastbourne Plunket. They can use beanies, booties, tops and baby blankets, items made from wool. This knitting will go to needy families in the Hutt Valley. They are also happy to take items that would fit older siblings in the family. I still have some wool yarn if you need it.
Thank you for all your creative efforts. It is all much appreciated. Carol Pringle
June 2014 - Randwick School and further afield
The slippers are now in use in the classrooms at Randwick School and seem very well appreciated. Twenty more beanies have also been given to the school. Most have gone to senior students who are very pleased with them. It is great to have this local destination for some of our knitting.

We had sixteen pairs of large slippers that the school could not use. These have been given to immobile residents in a local rest home, and were very welcome. As Mary Williams and I delivered them, the staff were already deciding on the recipients.

The Beanies outreach continues. Since last month two more parcels of knitting have gone overseas with Global Volunteer Network volunteers - one to Nepal and the other to Rwanda.
I am always amazed by the wonderful and varied creations of our dedicated knitters. There always seems to be enough knitting to fill the parcels. Thanks to you all. God bless you.
Carol Pringle
May 2014 - Beanies and slippers

Beanies slip to PNG
It is still quiet on the beanie front. Twenty beanies went with Mary Williams' granddaughter, Elly, to Papua New Guinea. She was involved in a school trip, walking the Kokoda Track and the beanies were given to the village accommodating them.
Global Volunteer Network reports that not so many volunteers are going from New Zealand at the moment. It will pick up and there are a couple of countries in the pipeline over the next couple of months.

Slippers for Randwick
This project is going well and we will have in excess of the ninety pairs we need for the Junior School. The knitters are from St Ronan's, and the greater Eastbourne Area, including the Women's Club. They will be given to the school in the week from 5th May. If you have slippers made, please bring them to church on the 4th May or phone me so that I can collect them from you. I have heard of another school in the Hutt Valley interested in the slippers, so no pairs will go unused.
Thanks to you all. Your love and willingness to help is very much appreciated.God bless you all Carol Pringle


April 2014 - Beanies are outreaching further
St Ronan's commitment to Randwick School in Moera has the aim to provide knitted slippers for use in the classrooms over the winter months. Shoes are not worn in the classrooms and some children have bare feet. Okay in summer but not when it's cold.
Thank you again to all those who keep this outreach going.
God bless you all Carol Pringle


March 2014 - A new challenge!

No parcels have been requested by GVN this last month, because the number of parcels we send depends on the number of volunteers going from NZ, and it's just a quiet month. So the beanie project is on going, but WE HAVE A NEW CHALLENGE !!!!!

As you know St Ronan's has a commitment to Randwick School in Moera and volunteers there in different ways.

Our aim is to provide knitted slippers for use in the classrooms over the winter months. Shoes are not worn in the classrooms and some children have bare feet. Okay in summer but not when it's cold.
Starting for the junior classes, about 90 children, we would like to have slippers for the second term, at the beginning of May. If you would like to be involved let me know, and I have a pattern and yarn etc. If you do not knit, but would like help, you can hand-sew the slippers and add buttons or bows to make each pair different and recognisable to their prospective owners. WE are excited to have a chance to do something locally and for our own NZ children. Let me know if you can help.
I have received a lovely knitted blanket made by last years Room 10 students at Muritai School. It is most likely going to Nepal in a couple of months. Well done Room 10. I will keep you posted on where it ends up.
Thank you again to all those who keep this outreach going.
God bless you all Carol Pringle
---
---
---
Beanies 2013
September 2013 - A special connection
Two parcels have gone to Uganda during August. One has a special connection to St Ronan's as it has gone with Gabrielle Molloy, the daughter of Les and Allison. Gabrielle is a Global Volunteer Network volunteer, and is working for a few weeks in an orphanage in Uganda with The Real Uganda programme.
I have received two big parcels of knitted goodies, from the women's groups at Waiwhetu Uniting Church and Upper Hutt Uniting Church. All will find an overseas destination in the near future.

Thank you to all the knitters that keep me supplied with goodies to fill the parcel requests. All your efforts are appreciated.
Carol Pringle
August 2013 - Thank you from Panama
This has been a quiet month with just one parcel going to Peru. This parcel is going with Lea Schmidt who has been our contact person at Global Volunteer Network. She will be in Peru for a few weeks and following that is leaving GVN to return to Germany to do further studies. Big thanks must go to Lea who has done a great job finding us volunteers willing to take knitting with them to their overseas postings. She has done a great job. Our new GVN contact is Scott Savidge who takes over from Lea. It is wonderful that GVN is so supportive of the Beanie Outreach. We just couldn't do it without their help.

And a thank you from Panama:
From: Unexpected Moments of Magic Panama
Subject: Thank you for the beanies & blankets!

Greetings Carol,

I just wanted to say thank you so much for the gifts you and your knitting group sent to Panama. They are beautiful! The beanies were donated to an organization that works with children with cancer & leukaemia and the blankets to a public hospital for the newborn premies for mothers of low income, so your gifts will be put to good use for sure!

Thank you for thinking of the people of Panama. We send our gratitude and love to you and your group with the travelling winds.

Sincerely,
Kaytee Hoverson
Executive Director
www.unexpectedmomentsofmagic.org
I still have wool if you need it God bless
July 2013- 2 new countries

June has seen three parcels sent away. Two went to two new countries for us, Panama and Argentina. The third parcel went to Vietnam, and all three with Global Volunteer Network volunteers. This partnership with GVN works very well. We supply the knitting and they supply the volunteers who are willing to take them to their overseas placements.
Thanks to the knitters and volunteers.
God bless you, Contact me Carol Pringle
May 2013- Outreach

Parcels have gone this month to Peru and Vietnam, both with GVN volunteers.
Knitting continues to come to me, so it's thanks to all the knitters. We have received a donation of $50 from the Women's Fellowship of Waiwhetu Uniting Church to be used for wool or for courier costs to connect parcels with GVN volunteers before they leave New Zealand for their volunteer experience.
Tracey Kelly, who teaches at Randwick School, approached me for beanie patterns and some wool. Some of her students are getting interested in knitting and want to try knitting beanies. How great is that? We wish them success.
Now that winter and cooler evenings are coming, beanie knitting may increase. We hope so. I still have yarn should you need it.

April 2013 - Thanks to Wahiwhetu Uniting Church
One parcel has been sent this month to Kenya. Knitted items still come in and thanks this month to the knitters at Waiwhetu Uniting Church for the large consignment. All the knitters are very much appreciated. It is the efforts of you all that keep this outreach going, so thanks to you all.
I still have yarn should you need it.
---
---
---
Beanies 2012
December 2012 - Thanks from Uganda
In November we have sent a package to the Philippines which is our 25 th country as a destination. A package also went to Peru.
It is wonderful that these little bits of love are warming heads in so many places. Thanks to all the knitters that keep this outreach going. Global Volunteer Network is really supportive and encouraging us that we are making a difference. It seems just a drop in the bucket in the worldwide scheme of things, but it is worthwhile. Need wool? I still have a supply. Carol Pringle
And from Uganda ...
Dear Ms Carol Pringle and the Knitting Group at St Ronan's Presbyterian Church,
Greetings from Uganda! On behalf of Youth Focus Africa Foundation (YOFAFO), I would like to whole-heartedly thank you for the knitted jumpers, hats, blankets and bears you sent with Ada. We really appreciate the time and thought put behind the donation, as well as your generosity. The items were given out to a group of women YOFAFO works with who have young babies.
They absolutely loved your gifts and there were smiles all around as they were passed out. It is always nice to feel cared about by people on the other side of the world and the love you have shown through these thoughtful gifts will be long remembered.
Blessings, Jamie Tucker,
Media and Communications, Youth Focus Africa Foundation
November 2012- Welcome Upper Hutt knitters
I was asked to speak to the Women's Fellowship at Upper Hutt Uniting Church about the Beanie Project. Mary Williams came too and we had a most enjoyable time. As a result we now have some more knitters, so a warm welcome to Upper Hutt knitters.
It is amazing how this outreach continues on, and more parcels find their way to folk who can benefit from what we are able to send.
Four parcels have gone this month, all with Global Volunteer Network volunteers, to Uganda, Kenya, Thailand and Nepal.
God bless you – we can make a difference. Carol Pringle
September 2012- Beanies to 24 countries!
I have received a lot of knitting this month, so the supplies are building up again. Thank you knitters!!! Two parcels have gone to Vietnam during August.
We now have sent parcels into 24 countries, over the five years of our outreach. Some countries have received multiple parcels, others just one or two. Most knitting is sent with Global Volunteer Network volunteers from NZ as they go to their placements. This has proved to be a successful way of getting knitting gifts to folk who need them. Thanks GVN.
August 2012- Thanks from Peru

Two parcels have been sent to the Kenya IDP camps this month, so read about it in the letter from Erin Cassidy, GVN, below.
During July four parcels of knitting have gone with GVN volunteers. Two were sent to Kenya, and one to both Vietnam and Peru.
But our beanie supply is low, so any you can make would be most appreciated.
Happy knitting and God bless, Carol Pringle 568-5061
And in response to the Peruvian beanies:
Thank you so much for all the beanies donated for Peru. They were such a hit! The beanies were distributed to the kids at the Huchuy Yachaq community center on the outskirts of Cusco. We did a Tombola which is a kind of raffle and then we had hot chocolate with the kids. It was such a fun afternoon and everyone was very grateful for the beanies!
The favorite one was the red and white beanie because these are the colors of the Peruvian flag!
Thank you again,
from Eliza Raymond, Executive Director, GVN Foundation
in Special Consultative Status with the United Nations Economic and Social Council

---

From the GVN Team to Carol's Knitters
First to let you know the GVN team think you are truly wonderful! Each of you lovingly knitting garments and teddies for needy children around the world – what you do is greatly appreciated. Your gifts are a blessing showing much love and thought to the children who receive them.
Recently my son Joshua (13) and I had the pleasure of taking over 5kg of your knitted goods to Kenya. We took part in the 'Eat So They Can' Distribution Trip where funds raised at last year's event were distributed. The funds were used to purchase a range of goods which were then delivered by our team to the local organizations where GVN volunteers are placed. Schools, orphanages, and medical centers were recipients of the donations. Each organization had different needs such as baby formula for the baby orphanages, food; school needs (such as uniforms, school fees, stationery); even a water tank, pipes and funds to cover the cost of plumbing for a medical clinic that had no access to water. We delivered mattresses, basins for washing, storage containers – so many things but mainly food.
I decided to give your knitted goods to Pipeline IDP Camp (IDP camps are a form of 'refugee camp' for those who were displaced by the violence that broke out in the 2007 elections). There are over 900 families at Pipeline (one of many such camps) who live in the most terrible of conditions. The 'tents' they live in were supplied by the UN and expected to be required for a 6-month period. Five years on this community are still living in them!
GVN donated food for a porridge feeding program which provides the camp children one meal a day. We were able to provide enough food to last a year. This community was surprising in their strength and resilience. Each of the children we met had a ready smile and wave. Of all the places we visited (each with many needs), this was truly the most in need for the essential basics for survival (i.e. shelter and food).
Due to the intense poverty at this camp, your beautiful knitted goods have been donated here. I was not personally able to hand out the garments and thereby get photos for you of the happy recipients. The community elders undertook to distribute the garments by way of ballot ensuring no 'favouritism' or ill feeling for those who missed out. Please be assured they would have been gratefully received.
I would love to meet with your group and share of my experience and observation of how much the work you do is a blessing to the many, many recipients. Please be encouraged – the impact of your love and care is rippling across the world as your knitting is delivered by volunteers to those who are vulnerable and in need.
With much admiration for all you do
Erin Cassidy , CEO, Global Volunteer Network
---
June 2012- Beanies with GVN volunteers
Parcels of assorted knitting have been sent in May to Peru (2), South Dakota, Kenya, and Nepal. All have been sent with Global Volunteer Network volunteers, who were going to their placements in these countries. We really appreciate that they make room in their luggage to take in some of our knitting.
I have received knitted garments from Waiwhetu Uniting Church Womens group and from Mary Ann in Karamea on the South Island's West Coast, along with knitting from the Eastbourne area. I know of at least three parcels going later this month. The child to adult-sized beanies are the most needed at the present.
And from the Administrator, Rosemary, at Happylife Childrens Home in Kenya:
"On behalf of Happylife Children's Home family, I wish to appreciate for your kind gifts of socks, hats, and sweaters you sent over to the children under our care. We sincerely appreciate your support, and your partnership. May the good Lord richly bless you. Pass our regards and love to the women's group that did this and to the whole church at St Ronan's Presbyterian in Eastbourne."
Happy knitting, Carol Pringle
May 2012- Support for Batsiranai, Zimbabwe
No parcels have been sent overseas this month, but three are going out in the next few weeks.
We have however received a lovely parcel of beanies, tops and scarves from Eastbourne Women's Club. We do appreciate them being part of our knitting outreach. A big thank you to all those knitters and to all the other happy knitters who continue faithfully to supply me with beautiful things to send away.
And from Sonya Duffy in Uganda, who writes:
Dear Carol, I hope this finds you well.

I am pleased to report that the beanies and jerseys have found homes at two orphanages here in Uganda. The kids were thrilled with their new knitwear, which is much appreciated in this cooler (rainy) season.

Keep up the great work!
God bless you all, Carol Pringle

April 2012- Support for Batsiranai, Zimbabwe
Four parcels of knitting have been sent this month. Two have gone to Peru, and one each to Uganda and Kenya.
Beanies that were sent in January to Zimbabwe, with a young man returning there to visit his family, were given to a group of women with disabled children. These mothers have formed a group called Batsiranai, (which means 'helping each other'). They are trying to support themselves and their children by making and selling handcrafts. Mothers with disabled children are often shunned by family and community, and face extreme poverty. Now they have hope of making a living at Batsiranai as they work together.
These mothers see their disabled children as precious gifts, and because of them they are able to become part of Batsiranai, and make a better life for themselves and their families.
A book titled 'When Needles Heal" was given to me, and contains stories of the mothers and their children. Here are some excerpts.
"God has brought me Edwin for a reason. If Edwin was not disabled, I would still be eating those vegetables without oil. So it is good he came to us. He makes me happy from day to day. It is only because of my disabled child that I am here, that I have work and that I can buy food for the family. If I did not have Batsiranai, I would have nothing."
And from a mother whose child had died:
"Chiezeda left me with something great, a good life."
Batsiranai has a website: www.batsaranai.com
If you would like to borrow 'When Needles Heal' and read the stories, just ask me.

Carol Pringle
---
---
---
Beanies 2011
December 2011 - Five parcels head out
Five parcels have been sent since the last Record. Global Volunteer Network Volunteers have taken parcels with them to their placements, in Uganda, Rwanda, Kenya and Ghana (a new destination for beanies). The fifth parcel of beanies went with a young man from Zimbabwe (another new destination). He lives in New Zealand, but was visiting his family. His parents work with street children there. I already have two parcel requests from GVN for February.
Some feedback about previous parcels from GVN volunteers:
Victoria Wilson who went to South Dakota to a Indian Reservation:
"I have just completed my volunteer work with the Cheyenne River Youth Project. The kids were really pleased with their beanies. We had a NZ/Australia night so I gave them out to the kids on that night. I have attached some photos of the kids with their new beanies so you and the other ladies can see how happy the kids were. Perfect timing too because it's freezing here at the moment."
Ashleigh Scoas who went to Uganda:
"I am back from Uganda. The knitted goods were great, thank you. i have a few photos of the beanies and my trip but the children were so happy. I also gave a lady who was expecting her third child a big blanket and baby clothes. She was so happy so thank you so much."
Stephanie Irons also went to Uganda:
"I have returned safely from Uganda and had a fantastic time. The orphanage Director and I distributed the beanies to the kids on Christmas Day. They loved them. I have attached a few pictures taken right after we gave the kids their beanies.
"The Director is going to take the blankets to the hospital for the babies that are abandoned there. (She does not have the resources to take babies into her orphanage; and the youngest kids are 3). She is going to distribute the smaller beanies around the village where there are many babies in need.
"Thank you so much for the kind donation."
| | |
| --- | --- |
| | |
| | |
| | |
From Stephanie in Uganda
Is this outreach worthwhile? Most definitely. Thanks to all who just keep on knitting. Your efforts are much appreciated. We can make a difference in this small way. A big thank you to Global Volunteer Network who find willing folk to take the knitting with them.
I still have yarn if you need it, for those already knitting, and those who would like to join us. Carol Pringle
November 2011 - GVN volunteers support the beanie programme
Six parcels of knitting have been sent during November and two are being organised for early December. Parcels have gone with Global Volunteer Network volunteers to Vietnam, Thailand (two), Uganda, and South Dakota (to an Indian Reservation). The sixth parcel of beanies is with Annalise Bolger, who has gone to Nepal and possibly Tibet, with a summer school programme at Victoria University. Annalise is planning to visit the orphanages in Kathmandu that Eastbourne supports.
The parcels for early December are to Rwanda and Uganda with more GVN volunteers.
We feel privileged to be part of this outreach. Little bits of love are warming heads and bodies and letting the recipients know that we do care and that they are not forgotten.
God bless you all this Christmas, and may the knitting continue!!!
October 2011 - Together we are making someone, somewhere, feel that they are loved and not forgotten.
One parcel of beanies, tops and baby blankets was sent in October, to Uganda. For November three parcels have been requested so far: one for Thailand and two for Vietnam.
Wonderful knitters, keep up a steady supply of knitted garments to me, even though there always seems to be enough to fill the requests. Thank you to all, you wonderful caring people. Together we are making someone, somewhere, feel that they are loved and not forgotten.
Any questions or need wool etc., phone me
September 2011 - Beanies to Peru

Two parcels have gone to Peru this month, containing assorted knitted beanies, tops and baby blankets.
I continue to be amazed at the steady flow of knitting that arrives to me. We have quite a good supply of things ready for future parcel requests. Thanks to you all for keeping this outreach going. We know that these small gifts to folk that have very little are much appreciated.
I know that GVN volunteers are referred to the St Ronan's website by GVN, when they are asked to consider taking with them a parcel of our knitting to their placements.
Any questions or need wool etc., phone me

August 2011 - Thank you Diwen Cao and GVN
Three parcels have been sent this month to Peru, Vietnam, Nepal, and a first-time parcel to Mozambique. Three have gone with GVN volunteers and the fourth with a girl going to volunteer at an orphanage in Mozambique with Iris Ministries. (My daughter works with her at BNZ.)
Our long-time contact person at Global Volunteer Network, Diwen Cao, is leaving the Lower Hutt office and going first to India and then Nepal. She has been wonderful finding us the willing volunteers to carry parcels. She has been training up a new person, Lea Schmitz to carry it on. We are so grateful for the enthusiasm and support from GVN. Without them it would be so much more difficult to find places to send our knitting.
Diwen received from us many thanks and a beanie (and she may need it in Nepal).
Need wool? I still have a good supply. God bless,
Carol Pringle
Check photos from Eliza's trip to Peru
Beanies for Orphans
July 2011 - Beanies, jerseys and blankets
It has been a great month for things other than beanies, although they come in steadily. Eastbourne Women's Club Knitting Group has donated some lovely wool jerseys and more, and then a parcel from Waiwhetu United Church Women's Group contained crochet baby blankets as well as other items.
Thank you all very much for these wonderful gifts, some of which have already been included in a parcel to Rwanda.
Global Volunteer Network is aware that we have these items and are finding us the willing volunteers to take them into places. We know already that some will go to Peru in July and August. We also have parcels due to go to Vietnam and Costa Rica.
Thanks to all you creative people who keep this outreach reaching out to warm heads and bodies in places far away.
God bless, Carol Pringle
Look at the photos of a recent delivery in Kenya.
June 2011

No parcels have been sent over the last six weeks as I was away. Global Volunteer Network is now looking for willing volunteers again and parcels should resume in July.
The knitting goes on and our beanie stash is increasing again quite nicely so we will be ready when we get the requests.
I received a package of knitted items from Helen Phillips in Christchurch. Thanks Helen for your continued support. Thank you too to Marie Eagle for knitting beanies the past few years. We all hope you settle into life in Motueka and enjoy being close to family.
Thanks to everyone who helps keep this outreach going - God bless you. Carol Pringle
April 2011 - Peru and Vietnam

Parcels have gone to Peru and Vietnam this month. Another parcel for Vietnam and two for Kenya are being organised at present. The wonderful knitted items keep coming to me and we always seem to be able to meet the requests. Thank you all for the continued support of 'The Beanie Outreach'.
If you need wool, please let me know. I still have a good supply
February 2011 - Vietnam, Kenya, Nepal
Requests for knitting continue to come from Global Volunteer Network with volunteers willing to carry beanies etc with them when they go to their volunteer placements. Two parcels have gone to Vietnamese orphanages in February, containing baby blankets, and good secondhand children's clothing. A parcel has gone to Kenya also, containing knitted baby blankets, beanies, vests and booties. A parcel of beanies leaves for Nepal in the last week in February.
We already have requests for parcels to Vietnam and Peru in March.
This endeavour is so worthwhile. Thank you all again for your continued commitment and enthusiasm. We appreciate the Global Volunteer Network organisation and the volunteers who help us get our efforts into folk who need them.
January 2011 - into our 5th year!

Two parcels of knitting have left this month for Peru and three more are in the process of being sent. These are to Ethiopia , Kenya and Cambodia . It is just amazing how the knitting keeps coming in, and there always is a place to send it. Thanks again knitters, you are very much appreciated. Carol Pringle